Frequently Asked Questions
Soft Washing Is A Method Of Exterior Cleaning Which Is Known For Cleaning Algae, Mold, and Mildew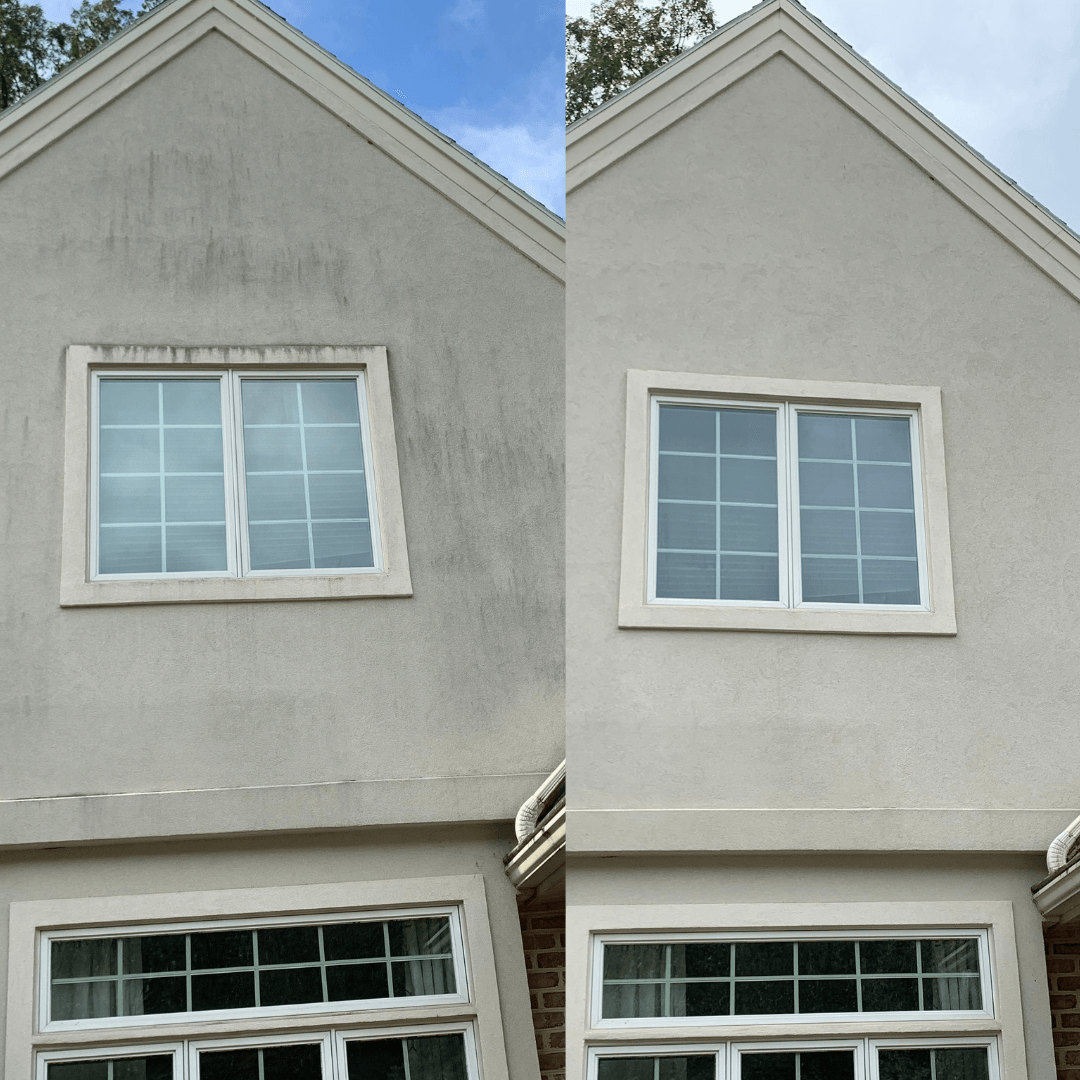 Soft washing is known for it's ability to remove algae, mold, mildew and dirt from exterior surfaces that wouldn't have been able to be cleaned otherwise.
As you can see pictured above, this is a dry-vit material that was cleaned using the soft wash method. Dry-vit is a very delicate surface so pressure washing a surface like this is simply not an option because it will cause damage.
The process works by using a low pressure chemical pump to apply the soft washing cleaning chemicals and then after a 10-15 dwell time, the cleaning solution is thoroughly rinsed off leaving behind a perfectly clean surface.
What Chemicals Are Used For Soft Washing?
Generally soft washing chemicals consist of two parts. The first part is the Algicide, this is the part that kills algae, mold, and mildew it is also great for removing wasps nests and spider websites. The most common algicide using in professional soft washing is Sodium Hypochlorite.
The second part of the soft washing solution is the surfactant. This part of the soft washing solution serves many purposes; it allows the algicide to cling to the surface for much longer, keeps the surface wet for longer, and clings to all of the dirt and loose particles on the surface.
At the start of the rinsing process, the surfactant will make it much easier for the bugs, dirt, and cobwebs and rinse away without stubbornly clinging to the walls.
Is soft washing safe for your roof?
Yes, the soft wash is not only safe for your roof it actually helps your roof and can extend the lifetime of your roof. Some homeowners will even ask to apply a roof sealer after the cleaning process to help the shingles last even longer.

Cleaning your roof kills the algae, mold, and bacteria that have grown and built colonies within the porous material of the shingles.
Is Roof Cleaning soft washing safe for plants?
When cleaning a roof it is very important to protect the plants ensure that the cleaning chemical does not come in direct contact with plants.

Our roof cleaning process includes procedures to protect plants like bagging gutters and thorough watering before and after. We also apply a neutralizer to the plants before and after to prevent causing any damage.

Roof cleaning should only be performed by trained professionals as it can cause damages to plants if not used safely and correctly
How Much Does It Cost To Wash A Roof?
The average cost to wash a roof will vary based on the number of stories your house is as well as how large the overall roof is. However, the average price range we see for roof cleaning services is $500 on the low end and $1,500 on the high end. This price is for a full standard professional soft wash with a 1-year warranty. 
How to clean a shingle roof without using high pressure
As we covered previously in this post, professional roof cleaning is done using the soft washing process with is the opposite of pressure washing. Pressure washing can cause serious harm to the surface of your roof as it blows away the granules that make the roof waterproof.

Pressure washing should never be used on a roof or any other surface of your house. Not only does pressure washing cause serious harm to your roof, but it will also void the warranty in many cases which mean that you will have to pay out of pocket to have it replaced.
What Is Soft Washing?
Soft washing is an alternative choice to pressure/power washing that does not make use of destructive high pressure. Soft washing extensively cleans surfaces as well as kills the microbes that are the root source of staining on roofings and also various other building surfaces.
How Do I Know Soft Washing Works?
Soft washing was created over twenty years ago. It has been extensively checked and it has actually been used in predominant Florida hotels, such as Disney, Universal Studios, and public setups. Additionally, over 100,000 roofings have actually been efficiently cleaned using Soft Washing.
Why Is Soft Washing Superior To Pressure Washing?
Soft washing gets rid of the microbes that create tarnishing, whereas pressure washing merely washes off the surface layer. Furthermore, soft washing does not use destructive high pressure, unlike pressure washing, and soft washing treatments last much longer than pressure washing treatments.
How Long Will A Soft Washing Treatment Last?
Generally, a soft washing treatment will last at the very least 4 times as long as pressure washing, before tarnishing reoccurs. In many instances, our treatments last much longer than one year.
Why Is It Important To Eradicate Microorganisms?
Microbes such as mold, mildew, algae, lichen, and bacteria are accountable for the majority of discoloration on roofing systems as well as other surfaces. In addition, results of the metabolism of these microorganisms is acidic, and also destructive to surfaces such as roof shingles. Eradicating these microorganisms protects against staining and enhances the durability of roofings, fencings, and also decks.
Is Soft Washing Safe?
The cleansing remedies made use of in our SoftWash System are 100% eco-friendly and have extremely low VOC (volatile organic compounds) emissions. Our cleansing services are non-toxic and will not release any type of dangerous chemicals into the area surrounding your property.
Is Soft Washing Environmentally Friendly?
Soft Washing is even more eco friendly compared to pressure/power washing, for the following factors:
All of our cleaning solutions are 100% eco-friendly.
Our cleansing options have extremely low VOCs.
We only use 1/3 the water of pressure washing.
Our cleanings last four to six times longer compared to pressure washing, so cleaning is not required as frequently.
Our SoftWash Systems cleanings protect products, such as roof shingles, conserving customers money, and also creating less waste in landfills brought on by debris associated with roofing, fence, and deck replacement.
What Types Of Surfaces Can Be Cleaned With Soft Washing?
Along with roof coverings, we cleanse all kinds of building siding, decks, fences, concrete as well as brick surfaces. Soft washing could be utilized on all types of building products consisting of timber, brick, concrete, aluminum, vinyl siding, shingles, and much more!